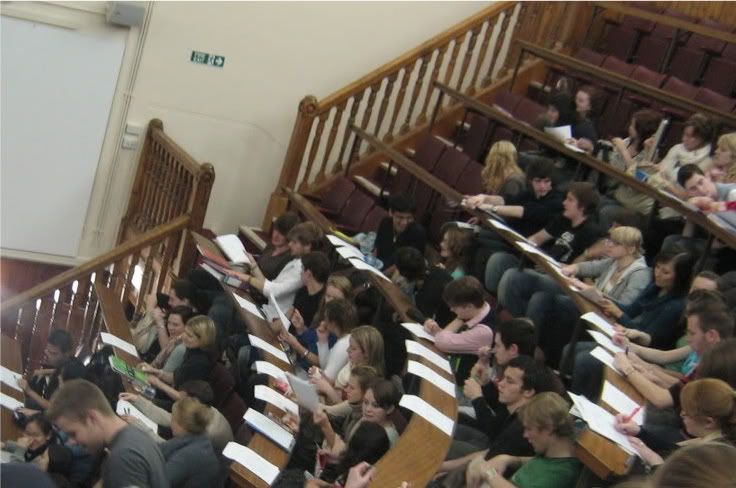 Here it is, at last! The first part of what I hope will be a helpful and informative series. In preparing for this topic, I discovered just how much information there is to share! Because of this, I'll be posting several times on various aspects of the college experience, intermingled with the long-awaited interviews.
Each person's college experience is unique and varied, even between people who attend the same university and major in the same fields. That being said, there are some major life changes that are universal, and it's best to know what's coming ahead of time. Today, we're going to discuss the "good news" and the "bad news" about the college experience.
The good news is, you get a clean slate, a chance to re-establish who you are.
You'll be in an entirely new place with entirely new people; people who have not known you growing up. The stereotypes that limited you in high school will fall away. If you weren't the most popular kid in school, it doesn't matter! If you weren't named Homecoming queen or most beautiful, it doesn't matter! The status symbols which ruled your life in junior high and high school no longer hold any weight. Life begins anew and what matters now is your personality, work ethic, and future achievements. People are much more accepting of each other in college. I remember feeling wary of the attention I received from guys who were upper classmen in college. My scars of harassment as a high school freshman were on my mind, and I thought they were trying to make a fool of me. I learned pretty quickly that, their attention was a compliment. I was the cute new girl, and they saw girlfriend potential!
The bad news is, you get a clean slate, a chance to re-establish who you are.
Up to this point, you've had (hopefully) loving guidance from your parents, your teachers, your church leaders and other mentors in your life. You have lived under lovingly-set limitations on your time and activities. These limits helped you get up in the morning, go to bed at night, study for school, and avoid sinful activities. These limits helped to mold the stereotype you received in high school, which for me, was the "good girl" stereotype. Although that title can feel cramped, there was also safety in it. The people who did drugs, drank and had sex probably didn't socialize with you, because it was known that you weren't "that kind of girl."
This protection will be gone in college. If that is the person you wish to remain, then you must re-establish your Godly reputation. You will be offered opportunities to drink, do drugs, go to parties and bars. Such things will be more abundant, and more readily available. You will need to determine your own, personally set boundaries and understand that you, and you alone will be responsible for maintaining those boundaries. I remember hearing God speak to my heart within the first two weeks of my freshman year in college. He said to me:
It's all up to you now, April. You can completely change who you are and what you do. Not only will no one at home know about it, but no one here will care!
Not to frighten you, but that's the cold, hard truth. No one will stop you from taking a drink, or shooting up. No one is going to stop you from going too far with a guy. They are focused on themselves and their future or living for the moment.
The good news is, you get to "stretch your wings" and try out life on your own!
You decide when to get up, when to go to bed, when to study, when and what to eat, when to go to class and what to do with your free time. If your personal learning style is different than the style imposed on you in high school, you can change it! You get done what you want done, when you want it done, because YOU are completely in charge! I remember finding, to my delight, that I could accomplish a lot of things in one day, living on my own. I'm from a large family with many siblings, and much of my life involved waiting for everyone else. I discovered that in college, I didn't have to wait for the laundry to be done my Mom's way, because I did it when I wanted it done. If I needed to take care of things, they could be done as soon as I wanted them done, and that brought me great pleasure. It's very satisfying to discover that you can make it on your own!
The bad news is, you get to "stretch your wings" and try out life on your own.
With all this freedom comes the ability to make tremendous mistakes. No one will remind you to get up and go to class. You must choose to wake up and attend that 8:00 Biology lab. No one will tell you "Hey, it's getting late and you've got a test tomorrow." If you want to pass, you must study, go to class and do your homework. Professors in college are not like teachers in high school. Your high school teachers are, to some degree, responsible for your mastery of a subject. In college, you're paying to be there. It's
your
responsibility to "get it." If you don't understand, it's your job to do extra work, ask for extra help and do what it takes to pass. The professor only lectures and tests. Some professors, especially in the area of your major study, will care about your success; but even they cannot and will not make you learn, that responsibility is on your shoulders alone.
No one will make you go to church. Even if you go to school near to your home church, people know that you're in college and they won't expect to see you every Sunday. At college, no one is going to stay on you about going to church. If you choose to stay strong in your faith, you must take the steps to do so. It's very easy to begin making excuses about church attendance. It can begin with, "I have studying to do," then it leads to "I need to sleep in," and finally you forget to even make excuses. A study by George Barna shows that 65% of high school students who attended church reguarly stop attending after they graduate. You don't have to fall prey to this statistic, but it requires effort on your part. When you begin your college career, make a point to find a church to attend, and get plugged in! It will greatly help you keep your priorities straight. This is life on your own, you determine the adult you are to become, and the habits you set in place now will mold the type of person you will grow to be.
We'll be getting into more specifics as the weeks go by. Don't be discouraged, college is a very exciting time! I remember that stage of life very fondly. It is a unique experience, with lots of fun, and compared to the rest of your life, little responsibility. Just be cautious and take your first steps on the other side with care. Don't forget who you are, Whose you are, and realize that the rules God and your family have set in place are there for good reason, you might want to hang onto them!