Philippians 4:8 Finally, brothers, whatever is true, whatever is noble, whatever is right, whatever is pure, whatever is lovely, whatever is admirable--if anything is excellent or praiseworthy--think about such things (NIV).
Welcome to week three of exploring modest swimwear solutions. Can you believe how many options are out there? I'm so excited about this week's discovery! Slim Perfect is a line of swimwear that also doubles as active wear. In other words, you can wear this clothing to swim, play tennis and work out at the gym! It also is slimming and flattering to the figure. Their products are designed for comfort, confidence and sophistication. Their sizes range from sizes 8 to 20, so Slim Perfect works for women of all body types!
Here is a little more about Slim Perfect, from their website:
SlimPerfect Swimwear & Activewear creates an option for the active, yet chic woman who loves to workout but wants to look great doing it and then move straight out to poolside for a dip while still looking feminine. All SlimPerfect Swimwear & Activewear provides more coverage and "tames" the bulges without moving them to other areas like other leading brands and was made to create the illusion of an hourglass figure. SlimPerfect Swimwear & Activewear solves poolside anxiety and creates a feeling of confidence in the gym or on the tennis court for ALL BODY TYPES.
The Slim Perfect line includes Tankini tops, with and without sleeves, Slim Skorts, Slim Skirts, and Slimming Capris, as well as Slim Dresses in a variety of colors. Here are a few of the options available:
Solid Black SlimDress
It just looks like a cute, little black dress, doesn't it? This SlimDress is available in sizes 8-18 and features sewn in bike shorts for additional taming and coverage instead of a brief under the dress. It features removable, molded gel-filled bra cups with pockets. It also includes a tummy tamer panel lined with powernet mesh for added control. The longer length provides more coverage. The distance from shoulder to hem on an average size 14 is Approx 33". The length is a little shorter per size down. It's made of Brazilian fabric, Nylon/Spandex.
All the SlimDresses come with the same basic design and slimming support features. Here are some other style options, which range from sizes 8-18, depending on the particular item: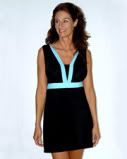 Black/Aqua SlimDress
Black/Teal Zebra SlimDress
Black/White Sleeved SlimDress
Black Steele SlimDress
More style options are available on the
website.
A few of these items are on closeout, and are therefore on sale! The Sleeved SlimDress is currently sold out, but is expected to be restocked in June.
Then there are the Tankini tops, which can be worn with Slim Skorts, Skirts, or Capris. These are available in sizes 6-20, depending on the item. Again, more options are available on the website, but here are a few examples:

Black/Aqua Tankini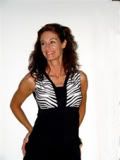 Black and White Zebra Tankini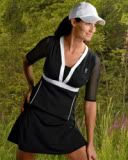 Black and White Sleeved Tankini
This is an example of the Tankini top with SlimCapris. The SlimCapri provides maximum coverage and control for the tummy, buttock and thigh area, and come in sizes 6 to 20. It is lightweight and is designed to make you look longer and leaner. The front tummy tamer panel lined with powernet mesh for added control, the buttock and thigh tamer is approx. 15" in length from the waist to smooth out trouble spots. This feature under the Capri is similar to a lightweight bike short. It tames and smooths the bulges without moving them to another area of the body. At the moment, this item is on backorder, but will be shipped to customers between May 25 and May 31.
Lots of customers have wonderful things to say about Slim Perfect Swimwear/Activewear! To check out their reviews, follow
this link.
There have also been several
press releases
about Slim Perfect, most impressive of which was a listing in O, the Oprah magazine, declaring Slim Perfect to be one of the "best brands" for "sizes 12 and up" and "to take inches off."
Their garments run slightly on the small side, so take a look at the
size chart
before ordering. Along with coordinating measurements, it gives instructions for how to properly measure for the best fit. The website includes a questionnaire to determine which style
best suits you,
and offers
before and after photos
of real women in their products.
Finally, here's the best news: Slim Perfect is offering 15% off if you use the code: AandV2011 when you order! This offer is good through May 31st!
So, check them out! As many of you, I have struggled for years to find a swimsuit I felt comfortable wearing in public. I'll be getting a SlimDress of my own to try out soon, and I'll let you know how it works for me. If I feel brave enough, I might even post a picture! (No promises, though!)

What other "things" would you like to see highlighted on our weekend posts? Drop us a line or leave a comment, and we'll discuss the things that interest you!