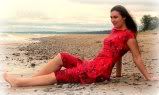 Philippians 4:8 Finally, brothers, whatever is true, whatever is noble, whatever is right, whatever is pure, whatever is lovely, whatever is admirable--if anything is excellent or praiseworthy--think about such things (NIV).
Welcome back to week two of discovering just how much is out there in the way of modest swimwear. This week we're highlighting a company that produces even more modest outfits than last week, in hopes of providing a wide spectrum of options.
I was delighted to discover
Simply Modest Swimwear!
This company is truly home-grown and God inspired. They describe themselves and their mission as follows:
Growing up in a family of four daughters, modesty has always been a hot topic! We wanted to be able to enjoy water sports unhindered, and still be dressed in a way that would be honoring to the Lord and the men around us. We were tired of piecing things together and layering shorts or t-shirts over a swimsuit which ended up feeling bulky and unattractive. . . We saw a great need for modest swimwear, a swimsuit that would be safe in the water and also beautiful and stylish!
We created this design for our own personal use, but when many ladies began asking where they could buy these swimsuits for themselves, we decided to offer our design to others who were seeking an alternative. . . It is my prayer that many people would be blessed by this design. May God be glorified by the way we dress!
According to Crystal, the interest in their swimwear came just as she graduated from homeschool high school. Her mother encouraged her to begin her own business, and the rest is history!
Simply Modest Swimwear offers swimsuits, swimshirts, leggings, patterns (if you care to make your own), fabric, and swimmer's care products.
This is an example of their swimshirts. They are available in women's sizes Extra Small to Extra Large. Depending on the size, they have varieties of pre-made shirts, and they also custom make swimshirts for a more precise fit. These have been designed for modesty, comfort and flexibility. They cover well, even during active swimming, and don't hinder your movement while in or out of the water. The bodice is lined, so there is a double layer of lycra fabric covering the entire bodice. They can be worn with your favorite pair of swim shorts or leggings! To read reviews of the swimshirts, click
here.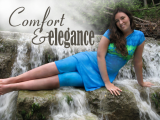 The swimsuits come in a variety of colors and prints, depending on size. They are also designed for modesty, comfort and flexibility, and made of lightweight spandex swimwear fabric. The leggings are not attached to the suit, so they are easy to take on and off, while making them more comfortable for swimming. These swimsuits have the look of a one-piece swimsuit, yet the comfort and flexibility of a two-piece! Once again, you can get one custom made, if you so desire. You can read product reviews of her swimsuits by clicking
here.
In addition to womens' swimwear, Simply Modest also makes suits for children sizes 4-7, and girls sizes 8-14. They come in a variety of colors and prints, and are made from the same high quality, lightweight material. To read product reviews on the children's swimsuits, click
here.
Crystal is bold and unashamed about her passion for modesty. On her website, she has a page titled
Why Modesty?
On this page, she explains her reasons for dressing with modesty (which I find inspiring!) What I appreciate and respect most about her philosophy, is that she understands modesty to be a personal choice, something to prayerfully consider with God, and that the Bible doesn't lay out hard and fast rules about clothing.
Simply Modest Swimwear is catching on! They currently have 4,015 fans on
facebook,
which, by the way, is another great place to read testimonials about their products. Although this swimsuit style is not for everyone, it's a great option for those who wish greater coverage for modesty reasons and sun protection. I hope you'll check them out, and support this young woman of God as she pursues her business/ministry!
I'd like to leave you with a great quote that Crystal has on her website: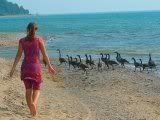 "Unaffected modesty is
the sweetest charm of female excellence,
the richest gem in the diadem of her honor."
~Webster's Dictionary 1828
What other "things" would you like to see highlighted on our weekend posts? Drop us a line or leave a comment, and we'll discuss the things that interest you!