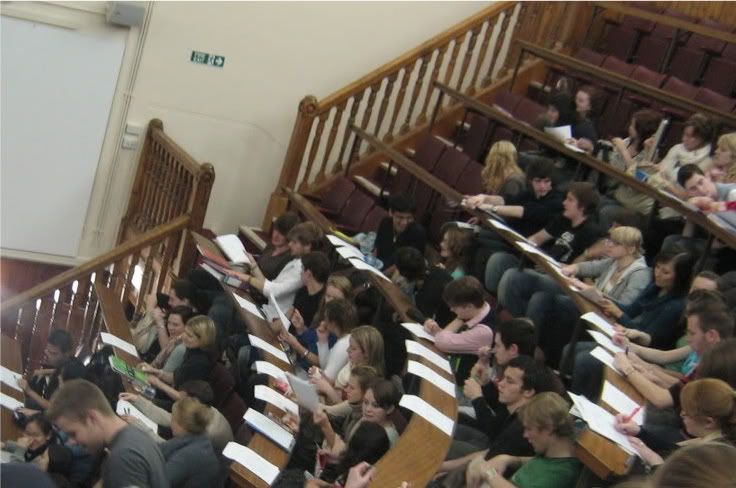 Well, here you have it, the last installment of the final interview in the College 411 series! I hope it has been helpful for all you soon-to-be college freshmen, and those of you making college plans in the next few years. If you get nothing else from our discussions, understand that college is a wonderful experience, just don't forget who you are and to Whom you belong. Here's the rest of Shelby's interview, may it bless and encourage you all. Good luck with all your college plans and activities, and God Bless!
April:

Is it challenging to stand strong in your faith as a college student?
Shelby:

For me, it's quite a challenge.

I do better staying in the Word when I have nothing else to do.

The summers are the best for me, because I can chill, open the Word and see what God has in store for me.

When I get busy, l barely have time to do anything I want to do, because of studying and classes, and I guess I tend to categorize spending time with God as something I want to do.

It's easy for me to think I have to study so I can make a good grade on this test.

I have to sleep so I can be prepared to take this test.

Then I'll realize that a week has gone by and I haven't spent time in God's Word.

It's a mindset thing, you really have to stop and make the time to read the Word and listen to God's voice.
April:

Do you feel further or closer to God than when you were in high school?
Shelby: I came into college from the mountaintop experience of church camp, so I definitely think that initially, God and I grew further apart.

Like I said, I got "busy" which contributed to that situation.

But then, I had to learn to trust Him day by day.

I had to lean on Him to show me how to make it through each day, and that has brought us closer.

He's revealed to me a lot about who I am, some of the character traits I possess.

Some of them are good, and He encourages me to keep developing them, and with others He tells me Those have got to change!
April:

Do you feel like your faith has matured, that maybe you're beginning to own your faith now?
Shelby:

Definitely!

I've actually started something I call Operation 119:11.

Psalm 119:11 says I have hidden Your word in my heart that I might not sin against You.

I've written down scriptures that prove why I believe what I believe.

In the past, I knew that the Bible "said" a certain thing, but I didn't know where.

To an unbeliever, that doesn't mean much. So, in order to be a stronger witness, I decided that I really need to study the Bible and memorize those scriptures.

The more I look into a verse, and the more I study individual words in that verse, the deeper I understand the meaning behind it.

I think this has to do with my stage of life.

In high school, I never really studied anything!

Now that I'm in college, I've learned how to study, and I think that I'm translating that skill to my Bible study.
April:

Do you think that a Christian can remain strong in their faith while going to a large, public university like you do?
Shelby:

Yes, I will say that my university is very conservative, and I believe that helps.

It might be harder if I attended a university that was really "out there," but I do know this:

Everywhere you go, there will be a church.

You need to be involved in the church community.

I'm not just talking about attending Sunday morning services; you have to get "plugged in."

Those people will support and help you through times of weakness.

Yes, there are lots of people at this university who don't believe as I do, but I've found my core support group and they help keep me strong, that's the key.
April:

Do you have any last words of advice?
Shelby: Be prepared for God to show you what He wants.

You're about to dive head first into the rest of your life, and you really don't want to do that without Him!

You're going to come into contact with a lot of people who claim to be Christians, but you need to investigate and discover who they really are.

You also need to dig deep and discover who you really are.

Expect your faith to be tested, that's why I believe God created college:

to test your faith, test who you are, and give you an opportunity to grow.

Your parents have done all they could to give you a great foundation, now you're about to flourish; just make sure that you stay dependent on God.