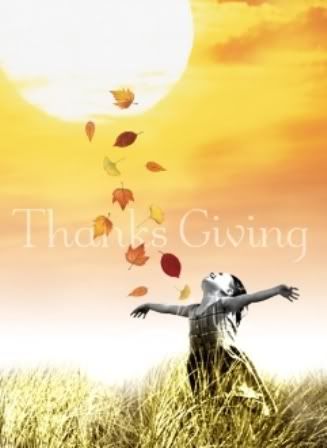 I Timothy 6:6 Now godliness with contentment is great gain (NKJV).
Okay, so it's the Thanksgiving season. Lots of people are beginning to post on facebook what makes them thankful, and more people will be "counting their blessings" as the holiday draws nearer. You might see it as just a ritual; a little exercise that gets forgotten the day after Thanksgiving as we dive headlong into the most materialistic season of the year. If you think about it, even preparing the Thanksgiving meal requires lots of shopping, gathering (hopefully before the stores run out,) and stress.
So, what's the big deal about Thanksgiving? Why does it matter? In our world, we're almost constantly assaulted with the idea that we need something more to be happy. It's vitally important to step away from the noise of the crowd, take note of the thousands of blessings God has provided, and give Him thanks.
Over the next few weeks we'll be looking at several very good reasons to be thankful. I don't know about you, but I find it quite a struggle to remain content, even though I know how tremendously I'm blessed. Hopefully, taking stock of all that we have going our way will help us keep the correct perspective on Christmas, and on life in general.
Feel free to share what makes you thankful, either by leaving a comment on this post, or on our
facebook page.
See you soon
!