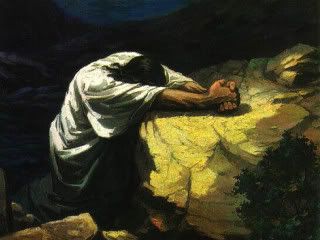 John 12:27-28 "Now My soul is troubled, and what shall I say? 'Father, save Me from this hour?' But for this purpose I came to this hour. Father, glorify Your name."... (NKJV)
At looooong last, we're back
!
Thank you for reading, and our apologies if we've kept you waiting. I'm sure your life has been just as busy and full as mine in recent months, with school starting up again.
So, while reading the book of John, I came upon something I've never stopped to consider before. I've always known that Jesus felt the stress of his impending death on the cross, and that we could tell this specifically when He prayed at the Garden of Gethsemane. However, according to the verse above, He was feeling the pressure even earlier.
This didn't really surprise me, but after pondering it for a while, I realized that Jesus was teaching us a lesson. Even as He was feeling "troubled," He demonstrated the proper attitude to adopt when facing our fears.
Jesus certainly did not look forward to dying an agonizing death on the cross. But, instead of asking God to remove it from Him (as I so often find myself doing), He asked God to be glorified in His situation
!
He recognized that His purpose on earth was to face this dreadful task, and He embraced it, for the glory of God, and for the restoring of our relationship with Him.
How many times do we face a trial and become self-absorbed? How often to we become selfish, even in our prayers?
"God, please make this problem go away
!
"
Do we ever take a step back and consider that God might have a greater purpose on the other side? Could it be that our attitude in the storm is actually preventing us from achieving all God intends for us?
I was challenged to change the way I pray about every uncertainty. Rather than praying for God to change the situation, I'm starting to say, "God, please help me to glorify Your name in this circumstance." Such a prayer will always be found acceptable to Him
!
After Jesus spoke this prayer, what happened?
Then a voice came from heaven, saying "I have both glorified it and will glorify it again."
Jesus recognized that the cross was not about Him; it was about God, who is both completely holy and completely loving. Jesus fulfilled His earthly calling by seeking to reflect God's glory. If I can strive to do that in my life, how much more can God do through me?
May this help your prayer life as well, my friends. God knows our weaknesses, and He is full of mercy. At the same time, He is challenging us to "grow up" in our walk with Him; to stare our giants down, and do mighty things through His power and for His glory
!
God Bless
!